When you go to your favorite newspaper or magazine website, what's the first thing you do after scanning the main headlines on the homepage? Let me guess, you probably click on one of the sections at the top of the page. Maybe you click "Sports" to read all the news from the weekend's games, or "Food" to discover a recipe for your evening meal.
Whatever you click on, chances are you're going to click on a section related to your interests. And online community platforms are no different.
That's why you should think about categorizing your community content in the same way as a magazine or newspaper. Why? So that your members can to find information related to their interests, and know where to post new content in your community.
Modern community platforms, like Crowded, offer you the ability to organize your community into 'Themes', 'Groups', 'Categories' or 'Topics'. Themes ensure that the information shared by the community—such as posts, events or projects—can be found by the right people.
Themes basically function as the signposts of your community, connecting members to information streams relevant to them.
Why themes are important
Members can follow relevant information streams and receive updates when new content is shared
Users can quickly discover new members based on their interests
Themes can give visitors a quick overview of what your community is about
Themes help members discover relevant content
Inspire members on topics they can talk about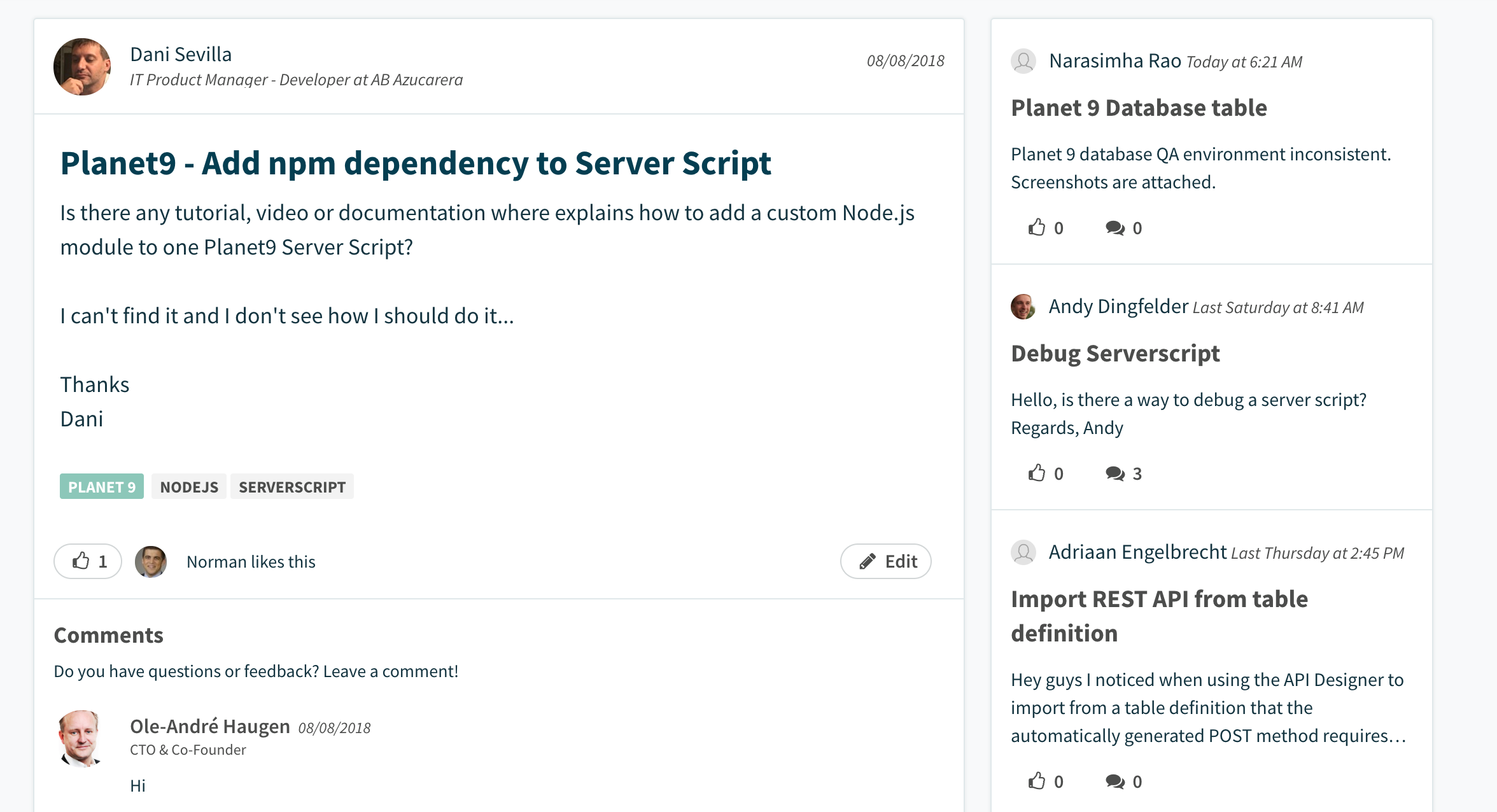 Choosing the wrong themes can have a negative impact on your community. Not only will they confuse members about the goal of your community, incorrect themes can also prevent members from sharing valuable content and even cause analysis paralysis for members when choosing a theme to share content in.
Themes in practice
Wondering what kind of themes live communities use? Below you'll find some examples from Crowded customers.
Tampere Business Link
The City of Tampere in Finland uses their community to attract and grow local and international business in their city. Their community is centered around the different stages of launching and expanding a business—from education, training ,and funding, to business development and internationalization.

Amsterdam Smart City
Amsterdam Smart City is a community of urban innovators working together to build the city of the future. Their networking community uses high level "city challenges" as their main themes. 'Mobility' is all about ride-sharing startups, new vehicles, roads and public transport. Whereas 'Digital City' is all about data, APIs, apps and other digital services.

When you explore a specific theme you will find an overview all the projects, products, events and content relevant to this theme.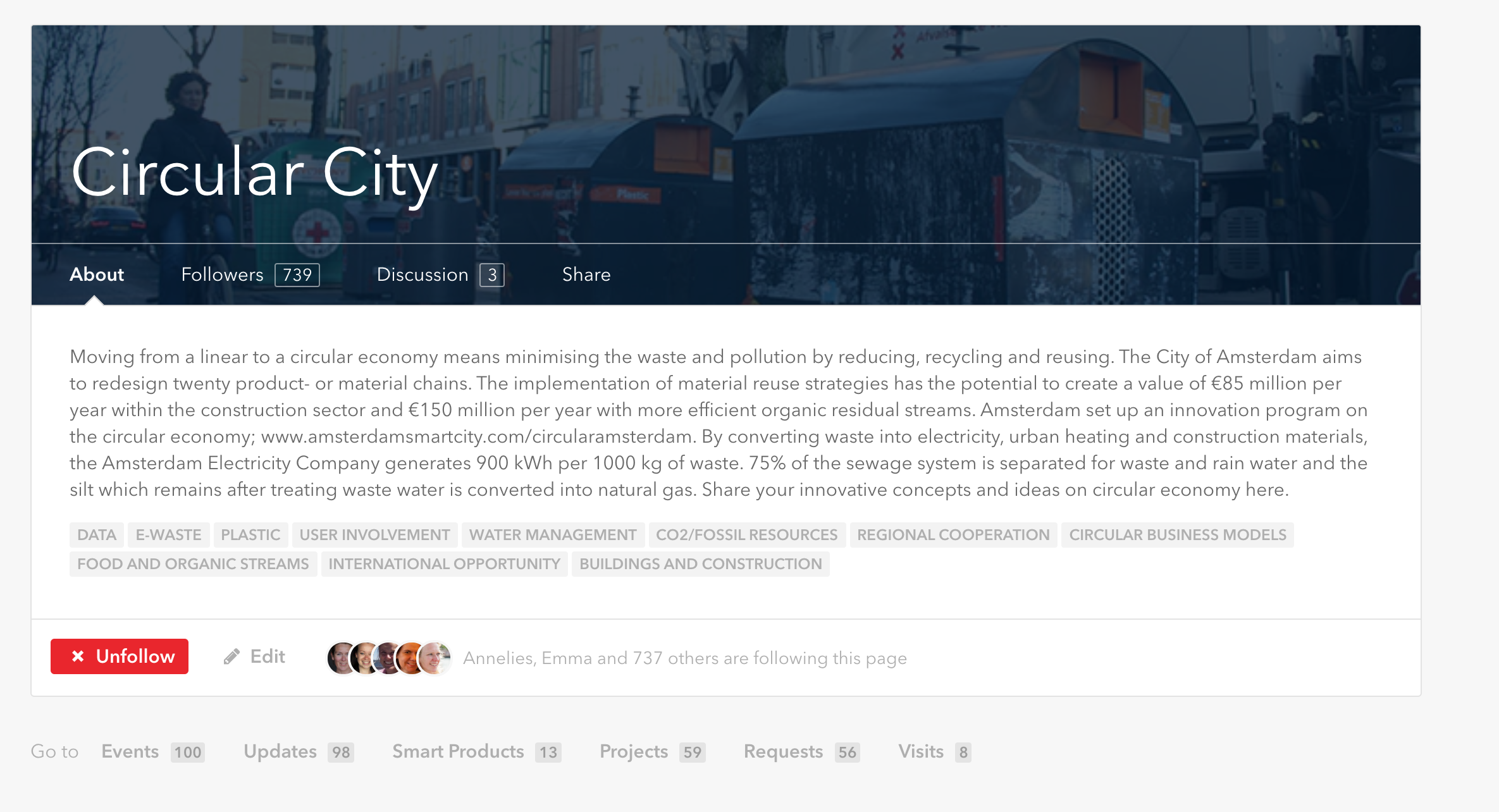 9 tips to create the right themes for your community
Even if you already have an idea of potential themes for your community, it's a smart idea to go through the following exercises with your team to make sure you're not missing any.
Think about your content strategy
Start by writing down as many topics, keywords, and ideas that come to mind regarding your community. To help, try answering the following questions:
What are your members looking for? Is it inspiration or opportunities?
What do you members want to share?
What skills, backgrounds or other characteristics connect your members?
What is lingo used in your market?
What do you want your members to talk about?
What products or services does your organizations provide?
After this, try grouping different topics and words together in different ways:
First group keywords that are linked or closely related. For example, you could group together words like 'Inspiration', 'Best Practices' and 'Examples', or 'Questions', 'Support' and 'Help'.
Then reshuffle and combine keywords that fall within the same category. For example 'Data' and 'AI' are both technology-related keywords, while 'Events', 'Introductions' and 'Interviews' are all ways to get to know people better.
Finally, start again by grouping words that share the same characteristic but not their meaning. For example 'Development', 'Sales' and 'Management' are all skills you have, 'Partnerships', 'Funding' and 'Coaching' are all resources or things you can get, and 'Feedback', 'Meeting People' and 'Discussions' are all activities you can do.
When you look back at this exercise, which grouping made the most sense? Which keywords were the easiest to group? Use that group as your starting point.
Keep it simple
Ideally, themes should divide your community into a maximum of 6-8 buckets. Having more themes is counterproductive as it makes the focus on your community difficult to understand.
If you come up with too many themes, see if you can combine certain topics or keywords. For instance, in a community for developers, you might come up with the themes: 'Self Development', 'Education' and 'Skills'. But instead of keeping them as standalone themes, you could group them under 'Career'.
You should also avoid using long names for themes and stick to keywords. Instead of 'Get to know each other', 'Apps and tools' and 'About the company', it's better to use 'Introductions', 'Apps & Tools' and 'About'.
Avoid overlap
You might end up with themes that at first sight do not have anything in common, but can still confuse your members.
Takes the themes 'Product Feedback' and 'Mobile App' as an example. In a product community, the first is usually a place to share ideas for product improvements, while the latter is a often a place where new features are announced or where support is provided.
But what if a customer has an idea related to the mobile app? Which theme should they post it in? In this case, both might be a good fit. That's why, it might have been better to make "Feedback" part of the "Mobile App" theme, or stay away from product terminology altogether, and keeping to 'Support' and 'Feedback'.
Use themes as your steering wheel
If you are cannot choose between different themes, it's a good idea to give priority to ones that trigger the kind of behavior you would like to see in your community. Remember, themes are an ideal opportunity to set out a direction for your community, and impact how you members interact on your platform.
Summarize your community with themes
Themes will be the starting point for new members, so it's essential that they communicate what your community is about.
Take Young Creators, for example—a community of ambitious entrepreneurs who are developing their own products and businesses. One look at their themes show you the kind of entrepreneurs and makers they want to attract.

Write down descriptions
Once you have come with your themes, try describing each one in two or three sentences. This is a great way to see if you can easily explain the focus of each theme and summarize the content you'd like to see in each theme.
Create a 'leftovers' or 'wildcard' theme
One thing you want to avoid is limiting members from sharing great content that might not necessarily fit inside the one of your existing themes. Many communities have a 'wildcard' theme—a place where any content is welcome. This can be a space for serendipity to take place, informal chitchat, or anything else weird and wonderful.
Here is some name inspiration for your wildcard theme:
Off topic
Watercooler
Wildcards
Chat
Random
Put your themes to the test
To double check if you've chosen the right themes, try putting different content types—such as posts, articles, and events—into your themes.
If you have a community already, scroll through your existing content and see where you would put each piece of content. If you don't have any content yet, look at conversations you have with colleagues, interesting content you find online, or interactions you have via email. Can you fit this content within your chosen themes?
Be flexible
Last but not least: don't worry about changing or even adding new themes later on. Closely monitor your community and see if people understand the themes you've created. If, later on, you discover that you forgot a crucial one, just add it later. Over time, you might also find that one theme is less popular or not active at all which allows you to make space for a new one.